This past June, Megan and I hosted some of our favorite boss ladies for an al fresco lunch. Planning anything outside during a "San Francisco Summer" can be a bit of a gamble, but we knew our gals were tough enough and planned a set up and menu that would be warming.
Here are a few tips and easy summer recipes that will make your next picnic a success sunshine or fog!
Stay Stylish,
K&M
GEAR NOTES
The key to making an event a success is keeping it simple. We've partnered with Paperless Post to make hosting a snap. Personalize your own beautiful invites (it may be hard to pick just one design).
Choose a thicker table cloth to add another layer of warmth to the table. We used Megan's Pendleton wool blanket over the table which kept everyone just a little more comfortable.
Provide a few extra blankets or quilts for guests if Karl rolls in unexpectedly.
Invest in a good waterproof backed picnic blanket if you'll be setting up on the lawn.
Keep It Real: We served everything on salad plates and used silverware and cloth napkins. It may require more packing and clean up, but it's better for the environment, easier to eat with, and it adds a little lux to the meal.
Roasted Veggie Couscous and Tumeric Chicken
Arugula Fruit Salad with Apricot Stilton Cheese
Rosè
Sparkling Water
Baguette

Meat & Cheese Board

Almonds
Cheese-two distinct varieties (we chose a cab soaked cheese and Manchego)
Quince Paste
Apricot Jam
Grapes
Spanish Meats
INGREDIENTS
1 large yellow squash

1 large zucchini

1 medium red onion

1/2 Eggplant

1 bag of small bell peppers from Trader Joes

1 bag of San Marzano tomatoes from Trader Joes

5 cloves fresh garlic

2 Tbsp olive oil

to taste salt & pepper

⅓ bunch fresh parsley

2 cups couscous

3 cups vegetable or chicken broth

1/4 lb marinated chicken cooked (I marinated mine in tumeric, honey, and olive oil)

1 lemon wedge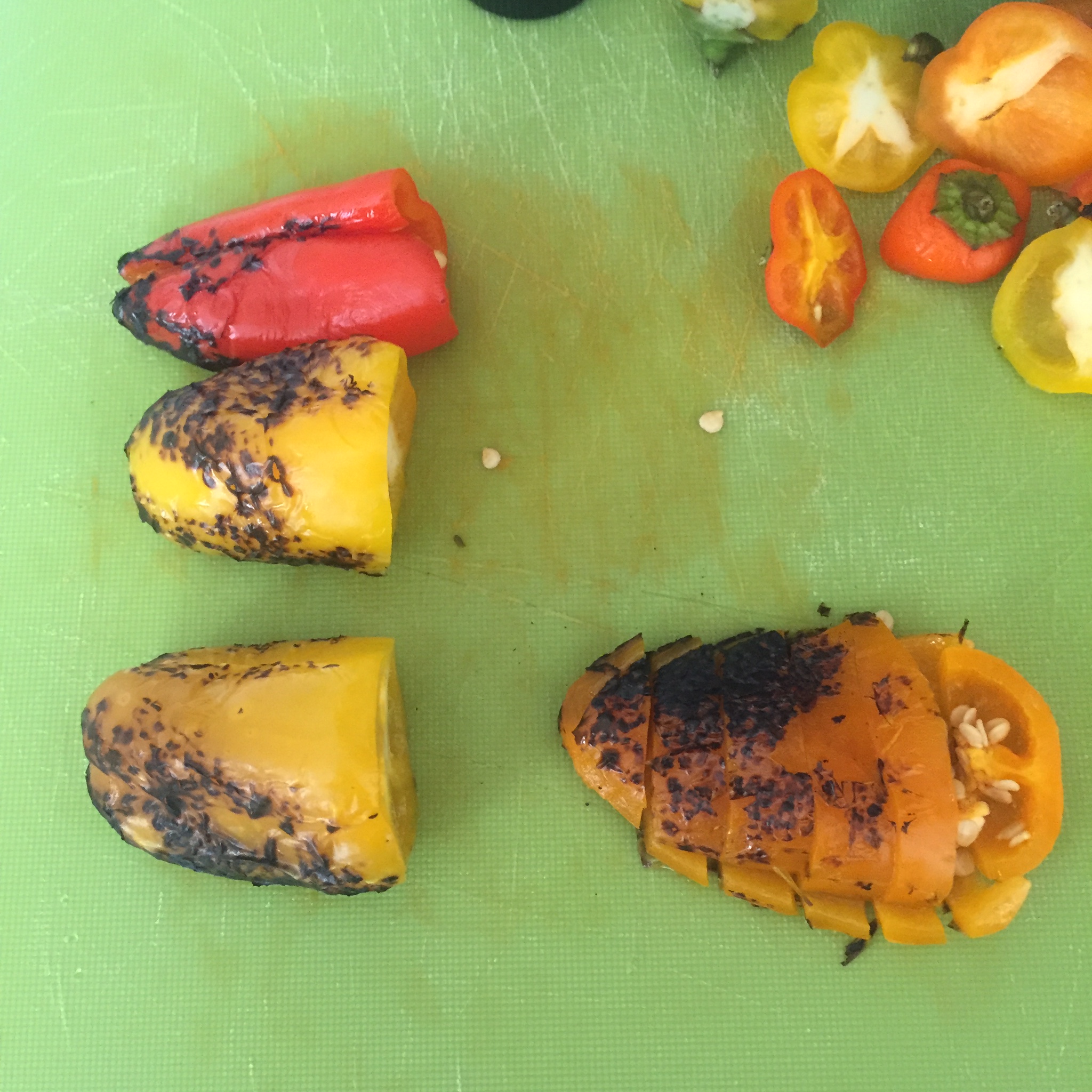 INSTRUCTIONS
Preheat the oven to 400 degrees. Wash and slice the vegetables into medium chunks ((bell peppers (I sliced mine in rings), squash, eggplant, onion).

Toss the chopped vegetables with 2 Tbsp of olive oil. Spread them out on a baking sheet (or two) so that they are in a single layer. Sprinkle generously with salt and pepper.

Slice San Marzano Tomatoes in half (length wise) and place on a foil lined tray. Drizzle with olive oil and sprinkle with fresh thyme, sea salt and pepper.

Place 5 garlic cloves in a bundle of tin foil and drizzle with olive oil, twisting the top to seal. Add to baking sheet for roasting.

Place the vegetables in the oven and roast at 400 degrees for 45 minutes (tomatoes and whole garlic will only need 20-30 minutes to keep juicy but caramelized). If you have two baking sheets on two different racks in the oven, you'll need to switch them half way through to ensure even cooking.

While the vegetables are roasting, cook the couscous. Bring 3 cups of broth up to a boil (or 3 cups of water + 1 Tbsp bouillon). Once it reaches a rolling boil, pour in 2 cups of couscous, turn off the heat, and cover the pot with a lid. Let sit, undisturbed, for at least five minutes.

After the vegetables are finished roasting, transfer them to a cutting board and roughly chop. Collect the five garlic cloves and chop in thirds. They are probably so soft that they'll just smoosh, but that's okay. You just want them to be able to distribute throughout the salad.

Roughly chop about ⅓ bunch of parsley. Fluff the couscous with a fork. Combine the couscous, roasted vegetables, and parsley in a bowl and stir to combine. Season with more lemon juice, salt and pepper if desired. Serve warm or cold! (excellent the second day)
Arugula Fruit Salad with Stilton Cheese
INGREDIENTS
Two Nectarines

4oz. Blue Berries

2oz. Rainier Cherries

1-2 Handfulls of Raw Almonds

Wild Arugula

Apricot Stilton Cheese
Citrus Vinaigrette
5T Orange Muscat Champagne Vinegar
2T Citrus Infused Olive Oil
1/4-1/2tsp. Dijon Mustard
1/8 tsp Sea Salt
1/8 tsp Pepper
1/2 tsp. Brown Sugar
(Tip make the night ahead for ingredients to mellow)
INSTRUCTIONS
Slice Cherries in quarters and reserve in lemon water to keep from browning.

Slice Nectarines in 1/4" wedges

Combine and lightly fold in all ingredients (except stilton cheese)

Top with crumbled Stilton cheese (I used a fork to easily crumble the cold cheese on site)

Combine vinaigrette ingredients in a glass bottle and shake until thoroughly blended. Refrigerate until needed.

Drizzle with vinaigrette.

Add pepper to taste