Labor Day weekend means that the last blissful days of summer are coming to a close. We filled our summer with plenty of travel, including Kimberly's epic trip exploring Amsterdam and the Dutch countryside, Megan's beach vacation and Devon's weekend visits back to NYC.
With so many miles of travel logged at the Canvas office, we've become seasoned pros at not only packing light but figuring out sneaky ways to make sure we have everything we need when traveling. To help you prep for your Labor Day travel (and beyond), we are dishing on our favorite cosmetic bags and beauty hacks that keep us stylish.
Our Favorite Stylish Toiletry Bags To Stow It All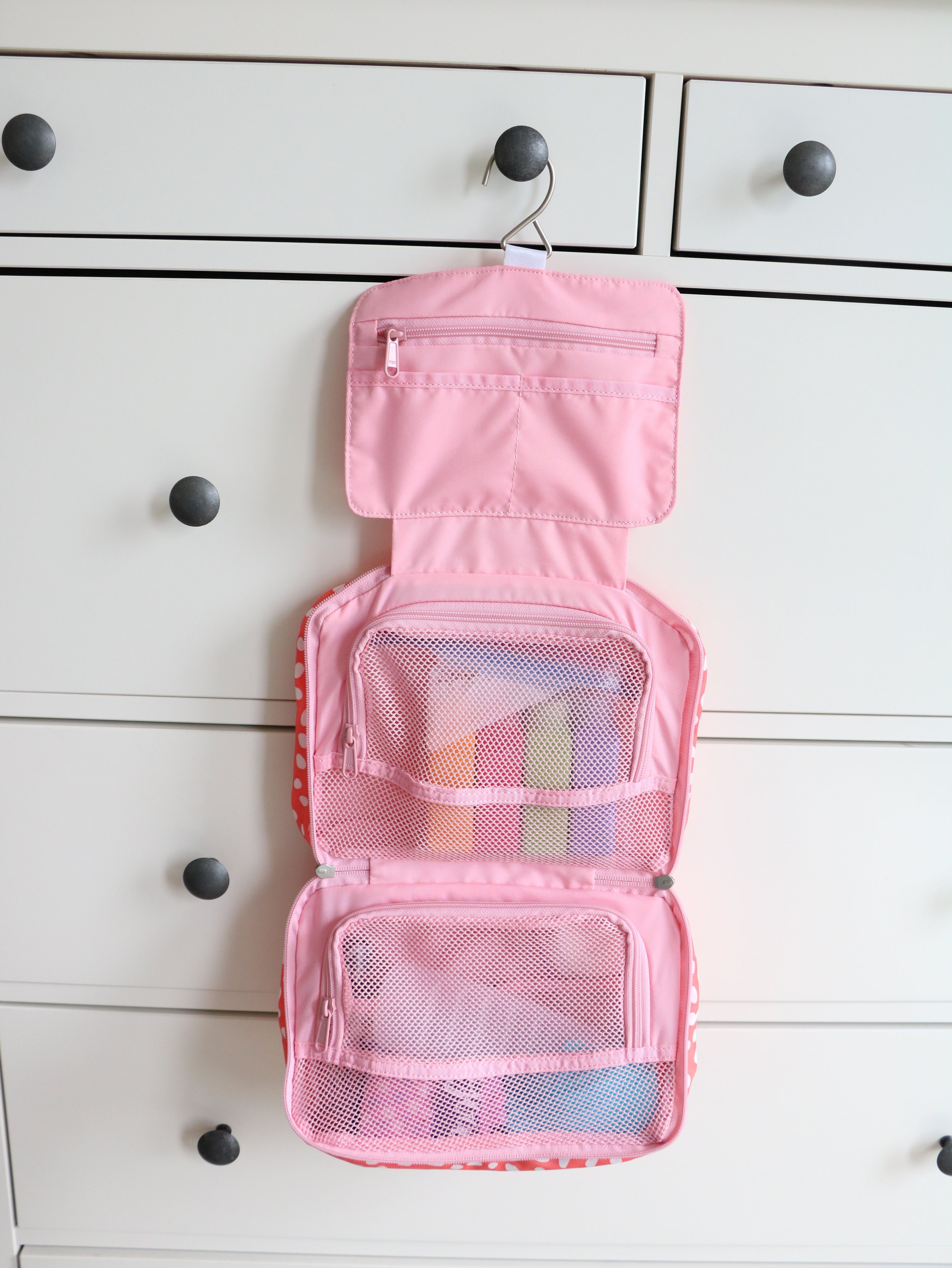 Megan's Sleek Multi-Tasking Toiletry Bag
I am a bit of an organization freak and need a travel case with lots of compartments. I love this bag from Nordstrom Rack because it has a top zipper section for makeup with special brush storage and a larger bottom section for my face wash, shampoo, etc.
Kimberly's Fit It All Convertible Toiletry Bag
I purchased this Toiletry from Flight001 in Hayes Valley and couldn't be happier. After years of making due with many little bag, this Spacepak holds it all for long journeys. I love that it has a hook to keep you hands free in tiny bathrooms.
Devon's High Style Stow It Toiletry Bag
My everyday cosmetic bag is stuffed to the brim with beauty products I rarely use. I recently made the switch to this more compact bag from Henri Bendel to focus on the products that actually work best for me. I love this pouch for traveling because I only bring exactly what I need, plus it's just super cute!
Travel Beauty Hacks You Have To Try
From face masks to fragrance, here are our favorite hacks when getting ready to take off.
A quick oil-blotting solution
"Blotting sheets are one of my travel essentials. If I ever run out or don't have any on me, I use a toilet seat cover from the women's restroom. They're made out of the same rice paper as blotters and do the trick in a pinch" - Megan
Be a Masked Maven
"I pack a japanese or hydrating face mask (I like Dr. Jart's or Tatcha) from Japantown or Sephora in my carry-on for long flights. You loose so much water flying that I pop a mask on to keep hydrated while everyone is sleeping (yes it's a fashion statement) but the coolness also helps me sleep." -Kimberly
Put Your Samples to Good Use
"A sneaky travel beauty tip I love is free samples! During my everyday, I am a one fragrance-woman. Sadly, I cant bring my trusty perfume in my carry-on bad, so I love grabbing as many sample scents as I can fit in my toiletry bag. Use the travel restrictions as an opportunity to test on new products!" -Devon
Stay Stylish,
K+M+D